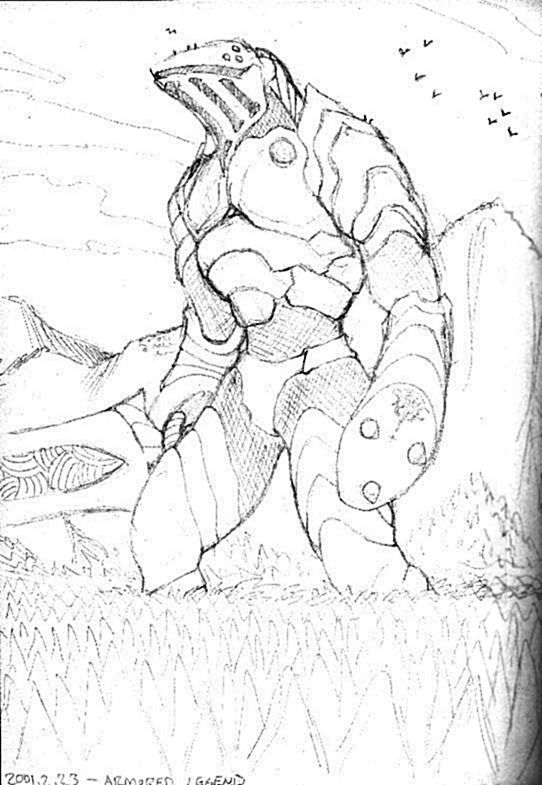 During the Legend War, the Beneath rose for a third time, yet this Rising was far more insidious than those that came before. Hastur, the Iron General, finally managed to assert control over his chaotic ally, Madragat, as well as gain the dark blessing of the Beneath itself. The dire intelligence of Hastur was given full reign, and a scheme was laid to destroy the Shards forever.
To the aelven were given the enchanted bones of titans, to be animated by the magicks of the aelven wizards and used as weapons of war. Wrapped deep within these bones powerful necromantic charms were waiting…
The aelven covered these potent frames with crystal, and fashioned a means to project their spells through the titan's body. Thus were born the Six Dooms, terrifying specters of destruction that could fly from shard to shard, and decimate entire armies. The titan bones themselves gave the Dooms resistance to spells cast against them. Their potential for war and power inspired the aelven to seek the glories of the Empire's past.
The aelven emperor, urged on by his advisors, began a war of reconquest in hopes of laying claim to resources the Empire of Xauphinelle desperately needed. Some of these advisors were in league with the Beneath from the beginning, while others were merely opportunistic. Regardless, the aelven played into Hastur's hands. While Xauphinelle warred with its neighbors, and erected a blockage around the holy nation of Ozaan in the Upper Shards, the forces of the Iron General and Madragat began to move against the Lower Shards. Fioré stood its ground, but only just, and refugees fled to the safety of the Shoals in the middle of the shards.
The Six Dooms and their aelven masters were matchless in the upper shards. Heroes from the Shoals and Velsephay sought to learn the secrets of the mighty crystal warlocks, and spies and heroes were dispatched to deliver such information to those who sought to resist both the Beneath and the Aelven Empire.
When finally luck turned in favor of the seekers, they carried their knowledge to dwarven holds, where the Velsephayan and Shoal forces might create their own war golems to combat those of the Empire, but they halted their endeavors when the Six Dooms went mad, the dark magic within them twisting their form and driving them to ravage both friend and foe in a storm of berserk fury. The wizards of the Resistance discovered the secret of the unholy titan bones, and forged their war golems of steel and everleaf wood.
Elementals were bound in great crystals in order to give life to the limbs of these great walking weapons. Heroes stepped forth and sacrificed their mightiest weapons so that they might be bound to the spirit of the war golems they meant to wield. Within their walking towers of steel and mystic force, these Legend Knights met the berserk Six Dooms in battle for the fate of the Shards, while the Beneath crept up from below consuming the shards and souls as it passed.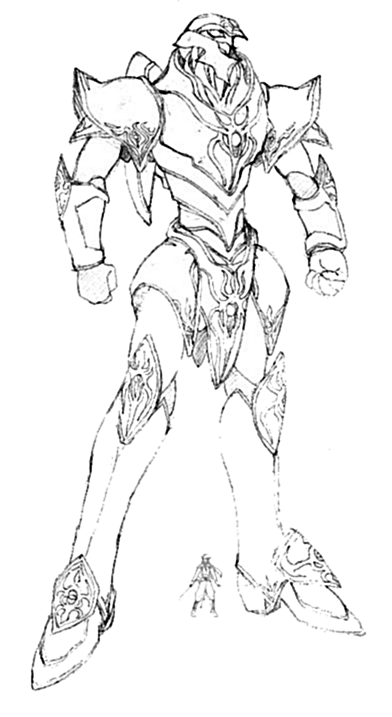 Legend Knight Prestige Class
The Legend Knight is a hero who has bound himself in some manner to a magical construct – an Armored Legend. Usually powered by elemental magic, the Legends are guided by the will of their Knight. The Legend Knight sacrifices a magical item of personal significance during the forging of the Armored Legend, and thus the two spirits mingle and reinforce one another.
As the Legend Knight grow and learns the way of his mighty war golem, so too does the Legend grow to mirror the soul of its Knight. A Legend might begin its existence as a plain and functional armored hulk, but after many travails with its Knight, its elemental energies might twist and warp it into the aspect of a horned beast to better mirror the spirit of its Knight. The union of Knight and Legend creates a fury of magical forces which forever leaves its mark upon them both.
Hit Dice: d10
Skill Points: 2+ Int Bonus/Level
Class Skills: Balance, Climb, Jump, Ride, Swim,
Prerequisites: BAB +8, Iron Will, Sacrifice of a magical item, possession of a Legend Armor (usually provided by a nation or monarch, though mysterious lost Legends might exist).
| | | | | | |
| --- | --- | --- | --- | --- | --- |
| Level | BAB | Fort | Ref | Will | Special Class Skills |
| 1 | +1 | 0 | +2 | 0 | Legend Armor Bond, Elemental Resonance |
| 2 | +2 | 0 | +3 | 0 | Minor Legend Feat |
| 3 | +3 | +1 | +3 | +1 | Major Legend Feat |
| 4 | +4 | +1 | +4 | +1 | Minor Legend Feat |
| 5 | +5 | +1 | +4 | +1 | Grand Legend Feat |
| 6 | +6 | +2 | +5 | +2 | Major Legend Feat |
| 7 | +7 | +2 | +5 | +2 | ? |
| 8 | +8 | +2 | +6 | +2 | Minor Legend Feat |
| 9 | +9 | +3 | +6 | +3 | Major Legend Feat |
| 10 | +10 | +3 | +7 | +3 | Grand Legend Feat, Linked Fates |
Legend Armor: The Knight is bound to a Legend Armor, and can control its actions as long as he remains within his Legend's 'saddle'; this may be a padded seat within the Legend's head or chest, or a more precarious position standing upon the Legends shoulder, head, or back of the Legend. The position of the Knight's saddle varies, though commonly Knights sit within humanoid Legends, while riding a Legend is more common for beast-form Legends. Legends that are the same size as their Legend Knight can only be used as mounts; they must be one size larger than their Knight to encapsulate them.
Legend Knight Abilities affect those of the Armored Legend.
Strength: The Knight's natural Strength Bonus adds to the Strength score of the Armored Legend.
Dexterity: The natural Dexterity Bonus of the Knight is added to the Legend's AC.
Constitution: The natural Constitution Bonus of the Knight is added to the number of Hit Dice the Legend has.
Intelligence: ?
Wisdom: ?
Charisma: Determines maximum size the Armored Legend can achieve.
Elemental Resonance:
MECHANICS OF LEGEND ARMORS
Legend Armors (Construct)
Strength and Dexteriy for an Armored Legend default to the lowest scores in each size bracket.
| | | | | | | | |
| --- | --- | --- | --- | --- | --- | --- | --- |
| Size | Str | Dex | HD | Slam | Bite | Claw | Gore |
| Medium | 12-13 | 10-11 | 1d10-2d10 | 1d6 | 1d3 | 1d4 | 1d6 |
| Large | 20-21 | 10-11 | 2d10-4d10 | 1d8 | 1d4 | 1d6 | 1d8 |
| Huge | 28-29 | 8-9 | 4d10-16d10 | 2d6 | 1d6 | 2d4 | 2d6 |
| Gargantuan | 32-33 | 6-7 | 16D10-32D10 | 2D8 | 1D8 | 2D6 | 2D8 |
| Colossal | 36-37 | 4-5 | 32d10+ | 4d6 | 2d6 | 2d8 | 4d6 |
Size Face/Reach
Medium 5'x5'/5'
Large (tall) 5'x5'/10'
Large (long) 5'x10'/5'
Huge (tall) 10'x10'/15'
Huge (long) 10'x20'/10'
Gargantuan (tall) 20'x20'/20'
Gargantuan (long) 20'x40'/10'
Colossal (tall) 40'x40'/25'
Colossal (long) 40x80'/15'
Basic Statistics (Without modification from Legend Armor Feats)
Size:
Hit Dice: As per lowest HD for size, plus bonus HD equal to Knight's natural CON bonus.
Initiative: As per dex.
Speed:
AC: 10 + Dex Modifier +
Attacks: 2 slams
Damage: As per size and strength
Face/Reach: As per size and body type
Special Attacks: None
Special Qualities: Construct, Requires Legend Knight
Str: Dex: Con: -
Int: - Wis: 11 Cha: 1
Skills:
Feats: As bought
Legend Armor Feats:
MINOR
Berserk
Pilot Bond
Legend Weapon – Melee
Legenc Weapon – Ranged
Weapon Upgrade: Increases weapon damage by one die size
Combat Feat: Choose one from the following list – (Mainly fighter feats) (include multiattack?)
Tail/Extra Limbs
Increased Movement
Increased Abilities
Increased Armor
Tough - Extra HP
Smite (extra damage equal to HD, once per day)
Resistance (Ex): Choose one of fire, cold, acid, electricity, or sonic resistance 5. This same resistance can be chosen multiple times and stacks.
Sprint
MAJOR
Combat Link (Allows access to one 'Fighter Feat' possessed by the Legend Knight per Level)
Damage Reduction
Winged Flight
Spell Resistance
Transformation
Increased Armor Class
Additional Attack
Centaur Body (+10 speed, double weight, +4 to resist trip attacks)
Dimension Door
Squeeze
Extra Reach
Mounted Siege Weapon
Burrow
Gore (Extra Attack)
See Invisibility
Charge
GRAND
Size Increase
Warlock Crystal/Holy Channel (links one spell school that can be cast by the Knight through the Armor Legend)
Intelligence (Golem and Djinn level)
Fast Healing
Breath Weapon